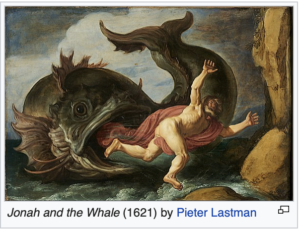 On Friday, May 24, 2019, Rev. Jeffery Stivason, Ph.D. began a new series on the Old Testament book of the Prophet Jonah.
Please join us for this insightful study about a reluctant "prophet." Read this short book, four chapters and prepare as we meet every Friday at 6:30am at the Barn at Christ Church at Grove Farm.
On Friday, July 19, 2019, Dr. Stivason completed our study of this wayward prophet, Jonah. Our next Bible Study will be "A Walk Through the Old Testament."
Check out our "About" page for more details on our weekly Men's Bible Study and how to find us at CC@GF.
Here is a link to our previous series, "Fixing Our Eyes Upon Jesus, Our High Priest."  And a link to our Bible Study Resources to help in our study of God's word.
---
Friday, July 19, 2019 –
Lesson Plan: 2019-07-19 The God Who Is
Audio: The God Who Is & Speaks
Transcript: 2019-07-19 Transcript – The God Who Is & Speaks
Friday, July 12, 2019 –
Lesson Plan: 2019-07-12 A Failure to Reflect
Audio: A Failure to Reflect
Transcript: 2019-07-12 Transcript – A Failure to Reflect
Friday, July 5, 2019 –
Lesson Plan: 2019-06-28 The Way of Repentance Part 2
Audio: The Way of Repentance Part 2
Transcript: 2019-07-05 Transcript – The Way of Repentance Pt 2
Friday, June 28, 2019 –
Lesson Plan: 2019-06-28 The Way of Repentance
Audio: The Way of Repentance
Transcript: 2019-06-28 Transcript – The Way Of Repentance
Friday, June 21, 2019 –
Lesson Plan: 2019-06-21 Hemmed In On All Sides
Audio: Hemmed In On All Sides
Transcription: 2019-06-21 Transcript – Hemmed In On All Sides
Friday, June 14, 2019 –
Lesson Plan: 2019-06-14 Waiting for the Waters to Stir – by Rev. Ted Wood
Audio: Waiting for the Waters to Stir
Transcript: 2019-06-14 Transcript – Waiting for the Waters to Stir
Friday, June 7, 2019 –
Lesson Plan: 2019-06-07 Jonah & the Sailors
Audio: Jonah & the Sailors
Transcript: 2019-06-07 Transcript – Jonah and the Sailors
Friday, May 31, 2019 –
Lesson Plan: 2019-05-24 No Substitutions Please Part 2
Audio: No Substitutions Please Part 2
Transcript: 2019-05-31 Transcript – No Substitutions Please Pt 2
Friday, May 24, 2019 –
Lesson Plan: 2019-05-24 No Substitutions Please Part 1
Audio: No Substitutions Please Part 1
Transcript: 2019-05-24 Transcript – No Substitutions Please