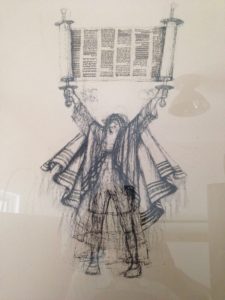 On Friday, July 26, 2019, Rev. Jeff Stivason began a new series. Jeff plans to walk us through the Old Testament exploring all the riches of the "Torah," the Prophets, the Psalms, Proverbs, the wisdom and poetry literature, all laying the foundation for the redemption of God's people with the coming of the promised Messiah. What a ride it will be.
Jeff defined the purpose of this new study as follows: This class will lay a solid foundation for a proper understanding of the Bible in general. It will answer questions such as, "How can I know God?" "How does God reveal Himself?" And, "How has God spoken to humanity?"

Please join us each Friday as we survey God's powerful word in capturing his majesty and wonder. All lessons are taught by Rev. Jeff Stivason, Ph.D. unless indicated otherwise. Our Bible Study is held every Friday at 6:30am at the Barn located on the campus of Christ Church at Grove Farm in Sewickley, PA. Here is a link to our About Page with directions and background on the Brave Men's Bible Study, as we approach our 25th year of study and fellowship.
---
Friday, December 13, 2019 –
Lesson Plan: 2019-12-13 The Fall of the Empire – Class 18
Audio:
Transcript:
Friday, December 6, 2019 –
Lesson Plan: 2019-12-06 The Divided Kingdom.Pt.3 – Class 17
Audio: The Divided Kingdom – Part 3 Class 17
Transcript: 2019-12-06 Transcript – The Divided Kingdom Pt 3
Friday, November 29, 2019 – the day after Thanksgiving
Lesson Plan: 2019-11-29 The Prophet Elisha – Class 16
Audio: The Prophet Elisha
Transcript: 2019-11-29 Transcript – The Prophet Elisha
Friday, November 22, 2019 –
Lesson Plan: 2019-11-22 Humiliation of Christ (rev)– by Rev. Ted Wood
Audio: Humiliation of Christ
Transcript: 2019-11-22 Transcript – The Humiliation of Christ
Friday, November 15, 2019 –
Lesson Plan: 2019-11-15 The Divided Kingdom Part 2 – Class 15
Audio: The Divided Kingdom Part 2
Transcript: 2019-11-15 Transcript – The Divided Kingdom Pt 2
Friday, November 8, 2019 –
Lesson Plan: 2019-11-08 The Divided Kingdom – Class 14
Audio: The Divided Kingdom
Transcript: 2019-11-08 Transcript – The Divided Kingdom
Friday, November 1, 2019 –
Lesson Plan: 2019-11-01 Solomon & the Empire – Class 13
Audio: Solomon & the Empire
Transcript: 2019-11-01 Transcript – Solomon and the Empire
Friday, October 25, 2019 –
Lesson Plan: 2019-10-25 David – From Wandering to Ruling – Class 12
Audio: David – From Wandering to Ruling
Transcript: 2019-10-25 Transcript – David – From Wandering to Ruling
Friday, October 18, 2019 –
Lesson Plan: 2019-10-18 Samuel and Saul – Class 11
Audio: Samuel and Saul
Transcript: 2019-10-18 Transcript – Samuel and Saul
Friday, October 11, 2019 –
Lesson Plan: Samuel – The Last Judge 2019-10-11 – Class 10
Audio: Samuel – The Last Judge
Transcript: 2019-10-11 Transcript – Samuel- the Last Judge
Friday, October 4, 2019 –
Lesson Plan: 2019-10-04 Conquest of Canaan – Class 9
Audio: Conquest of Canaan
Transcript: 2019-10-04 Transcript – The Conquest of Canaan
Friday, September 27, 2019 –
Lesson Plan: 2019-09-27 Sinaitic Covenant, Law & Wandering – Class 8
Audio: Sinaitic Covenant, Law & Wandering
Transcript: 2019-09-27 Transcript – Sinaitic Covenant, Law and Wandering
Friday, September 20, 2019 –
Lesson Plan: 2019-09-20 Moses, Exodus & Sinai – Class 7
Audio: Moses, Exodus, & Sinai
Transcript: 2019-09-20 Transcript – Moses, Exodus and Sinai
Friday, September 13, 2019 –
Lesson Plan: 2019-09-13 Joseph & the Flow of Redemptive History – Class 6
Audio: Joseph & the Flow of Redemptive History
Transcript: 2019-09-13 Transcript – Joseph and the Flow of Redemptive History
Friday, September 6, 2019 –
Lesson Plan: 2019-09-06 Abraham & The Patriarchs – Class 5
Audio: Abraham & The Patriarchs
Transcript: 2019-09-06 Transcript – Abraham and the Patriarchs
Friday, August 30, 2019 –
Lesson Plan: 2019-08-30 Opposites Day – Day #1 by Rev. Ted Wood
Audio: Opposites Day – Day #1
Transcript: 2019-08-30 Transcript – Opposites Day
Friday, August 23, 2019 –
Lesson Plan: 2019-08-23 Fall to Babel – Class 4
Audio: Fall to Babel – Class 4
Transcript: 2019-08-23 Transcript – From Fall to Babel
Friday, August 16, 2019 –
Lesson Plan: 2019-08-16 Covenant of Creation – Class 3
Audio: Covenant of Creation – Class 3
Transcript: 2019-08-16 Transcript – The Covenant of Creation
Friday, August 9, 2019 –
Lesson Plan: A Walk Through the Old Testament – Class 2  
Audio: A Walk Through the Old Testament – Class 2
Transcript: 2019-08-09 Transcript – A Walk Through the Old Testament Class 2
Friday, August 2, 2019 –
Lesson Plan: 2019-08-02 Greet One Another with a Holy Kiss by Rev. Ted Wood
Audio: Greet One Another with a Holy Kiss
Transcript: 2019-08-02 Transcript – Greet One Another with a Holy Kiss
Friday, July 26, 2019 –
Lesson Plan: 2019-07-26 A Walk Through the Old Testament – Overview Class 1
Audio: A Walk Through the Old Testament – Overview
Transcript: 2019-07-26 Transcript – A Walk Through the Old Testament Overview